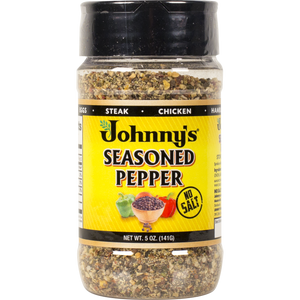 Seasoned Pepper
Sale price Price $7.92 Regular price Unit price / per
If you like our Seasoning Salt you'll love our Seasoned Pepper.  A mix of cracked black pepper, red and green bell peppers, onion and garlic and NO SALT! A true "stovetop" seasoning meant to be used on EVERYTHING!
Much more than just pepper, try Johnny's Seasoned Pepper on chicken, burgers, steaks, stews, soups, eggs, potatoes, grilled vegetables—literally anything and everything.
INGREDIENTS
Black pepper, sugar, red & green bell pepper, onion, garlic. No salt.
It's awesome
It has such perfect blend of seasonings... I will not buy ANY other pepper This has it all!
Johnny's Seasoned Pepper
This pepper blend is very good, it's blend of black pepper with the red and green pepper really make this pop in my recipes. I like it so much that I regularly purchase it (along with Salad Elegance) online and have it sent to my home in Texas because no grocery store or chain (including Costco) carry either item. So nice to have the availability another way--Thank you!
Love all of these seasonings
Sugar in The Seasoned Pepper
The Seasoned Pepper is nice. I am grateful it does not contain sale, but disappointed that it contains sugar. I thought I tasted sugar, but wasn't sure until I read the label. I can not have sugar.