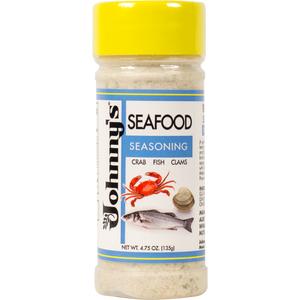 Seafood Seasoning
Sale price Price $4.17 Regular price Unit price / per
A gourmet blend of dill seed, garlic, and natural lemon flavor to give a tangy touch to white meats and fish. Sprinkle evenly on Fish and Shellfish for grilling, broiling baking, or on seafood cocktails. Add to water for Poached Fish. Add into Soups, Chowders, Gravies, and Sauces for added zest. Mix with Sour Cream for a great Fish Sauce. Add to Melted Butter for a Dill Butter Sauce for Crab or Prawns.
INGREDIENTS
Sea salt, monosodium glutamate, ground dill seed, natural lemon flavor, granulated garlic*, onion*, spices*. *Dehydrated
Contains: MSG
Johnnys Seafood seasoning
This is our go to seasoning when it comes to making halibut with coconut milk.
When I knew I couldn't find the seasoning in any of our grocery chains where I live in Canada, for some reason the stores stopped carrying it, I was upset.
So, I frantically looked for it. I vigorously looked on the internet till finally I was successful.
You made a consumer very happy and Im grateful to have some in my kitchen pantry again.
Thank you Kindly
Great for all kinds of fish!!
I've been using Johnny's Seafood Seasoning for years on all of my fish. It really enhances the flavor of the fish. I even use it when I make a tuna casserole.
Seafood seasoning
I haven't tried it, but my wife and daughter love it.