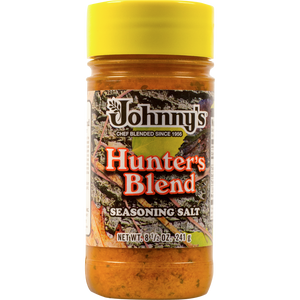 Hunter's Blend
Sale price Price $5.53 Regular price Unit price / per
A blend of old world flavors that will make your catch perfect whether grilling, roasting or broiling.
INGREDIENTS
Sea salt, monosodium glutamate, paprika, onion, garlic, spice.
Contains: MSG
Wonderful
We eat a lot of wildgame and use it on that as well as other things.
Hunters Blend Seasoning Blend
I have used Hunters Blend now for a few months and have finally found the one and only seasoning blend for all of my cooking. The prime rib I season is not salty and the flavor is just right. My homemade soups the same thing—wonderful. I recommend this blend for anything you cook or bbq. My family and I use it on everything and truly enjoy the flavor. Hope you try it and enjoy it as much.
Great Product
Cant Find It In Stores Anymore I Use That S--t On Everything