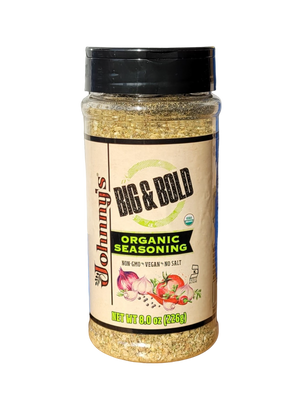 Big & Bold Organic Seasoning
Sale price Price $6.50 Regular price Unit price / per
We've done the impossible. Flavor so powerful, and with ABSOLUTELY NO SALT. Seriously. Forget all the other seasonings; knock them right off your shelf and prepare yourself for the magnitude of taste in Johnny's® Big & Bold! Seasoning. Big chunks of flavor in every shake and every sprinkle. Pour it on your veggies. Pour it on your meat.
Turns out amazing salt-free flavor was possible.
INGREDIENTS
Organic dehydrated onion, organic dehydrated garlic, organic spices, organic dehydrated carrot, organic dehydrated red bell pepper, organic mustard seed, organic orange peel, organic dehydrated tomato, organic dehydrated lemon juice, organic chili pepper, organic sunflower oil, citric acid, organic lemon oil.

Robust and flavorful
We love the Johnnys Organic Big and Bold seasoning. It has a robust flavor that other salt-free spices don't have and without harmful additives. Highly recommend!
Big and Bold Organic Seasoning
We have been fans of your products for years. When we saw your new, salt free seasoning we knew it would be great. We use it on eggs, chicken and on vegetables It is delicious. Thank you, The Campbells
Big, bold and delicious
You can add the organic seasoning to anything to spice it up and make it more delicious! I would recommend it to my friends! Most importantly - NO SALT!!
I really like Johnny's Organic Seasoning
I really like Johnny's Organic Seasoning. But unfortunately it's not sold in most stores like their other seasonings. I first found it at Costco and I wanted to buy it again but they haven't had it since. So I checked Safeway, Winco, Trader Joe's, and Walmart, but no one carried it. So I finally went directly to Johnny's website to get it. And since they don't offer free shipping I bought 3 bottles of it.
David,
Tracy, CA